These 6 Celebrities Look Gorgeous In Gulaal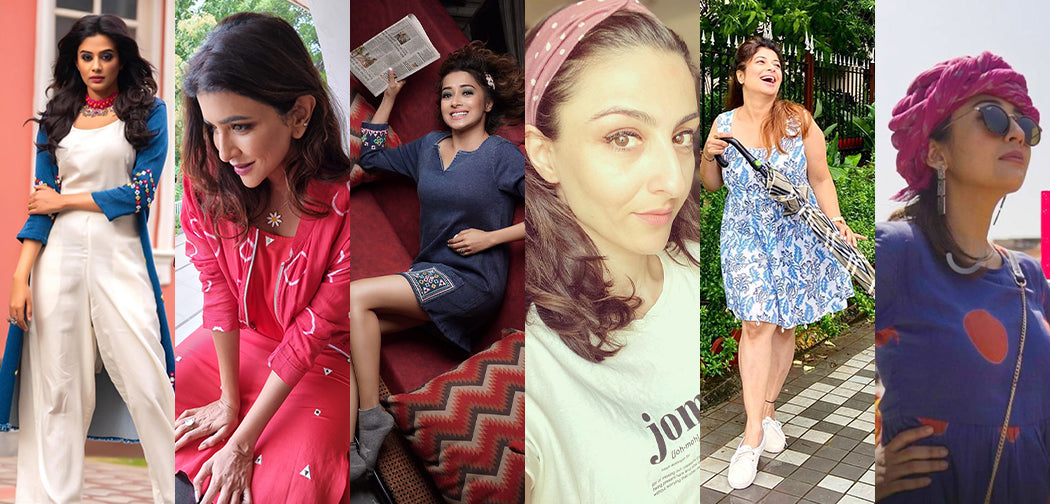 Gulaal Fam is made up of amazing people like you. At the same time, it is full of various public figures who love wearing our creations.
In this blog, we're recounting the top six celebrity looks in Gulaal.
Let's begin this starry-eyed journey.
1. Priya Mani Raj
If you're a fan of the hit web series 'Family Man' from Amazon Prime Video, you'll instantly know who we're referring to.
Priyamani has appeared in Tamil, Telugu, Kannada and Malayalam films before the show and is also the recipient of a National Film Award.
So, imagine our happiness when she served some smouldering looks in the 'Paloma Three-Piece Set'!
After obsessing over her pictures, we concluded that this all-white look coupled with the now-famous denim jacket is perfect for almost every occasion.
From work to party, the denim jacket with real mirror embroidery elevates the monochromes in a second. Add it to the cart by clicking here.
2. Laxmi Manchu
A renowned actress, producer and television presenter from Telugu cinema and American television – Laxmi Manchu looked like a siren in red.
She flaunted our comfort-fit 'Anika Co-ord set' which constitutes a muslin silk jacket that goes incredibly well with the cotton satin dress.
The two-piece festive outfit can be bought by tapping here.
3. Tina Dutta
Her contribution to the Indian television industry has made her a household name.
And, we may have squealed when we spotted her wearing not one but TWO outfits from our 'Indigo Meadows' collection.
Her first look was all about accentuating the 'Paloma Three-Piece Set' by pairing it with bright yellow stilettos.
And, her second look screamed "short and hot!" with the 'Chiara Dress'.
4. Soha Ali Khan
When Bollywood royalty Soha Ali Khan Pataudi takes a selfie in our 'Fressia Knot Headband', we sit up straight and pay attention.
This polka printed, cotton headband rightfully captures the easy-breezy summer style which you want to achieve.
5. Malini Kapoor
Another gorgeous TV actress made it to our list and we couldn't be happier.
Malini's smile has the power to turn a bad day around and her charisma shines through the two Gulaal outfits that she wore recently.
The first look is more on the playful side in which the actress seemed to be enjoying the look and feel of the 'Aaliyah Short Dress'.
The second look was more along the lines of 'minimally festive'. She posed with poise in the 'Parisa Sequin Layered Dress'.
6. Barkha Singh
An Indian model, YouTube and actress ventures to the Pink City and explores it wearing one of our pieces called 'Kezia'.
We're thinking of none other than Barkha Singh being out and about in Jaipur with this comfortable dress on.
The front cowl detailing makes it eternally trendy while a pocket ensures that one doesn't lose their personal belongings while travelling.
Yes, celebrities wearing Gulaal indeed makes our day. And, when you – a devoted reader and shopper – wear Gulaal, we clap with delight.