Reasons Why Our 'Indigo Meadows' Collection Is So Fascinating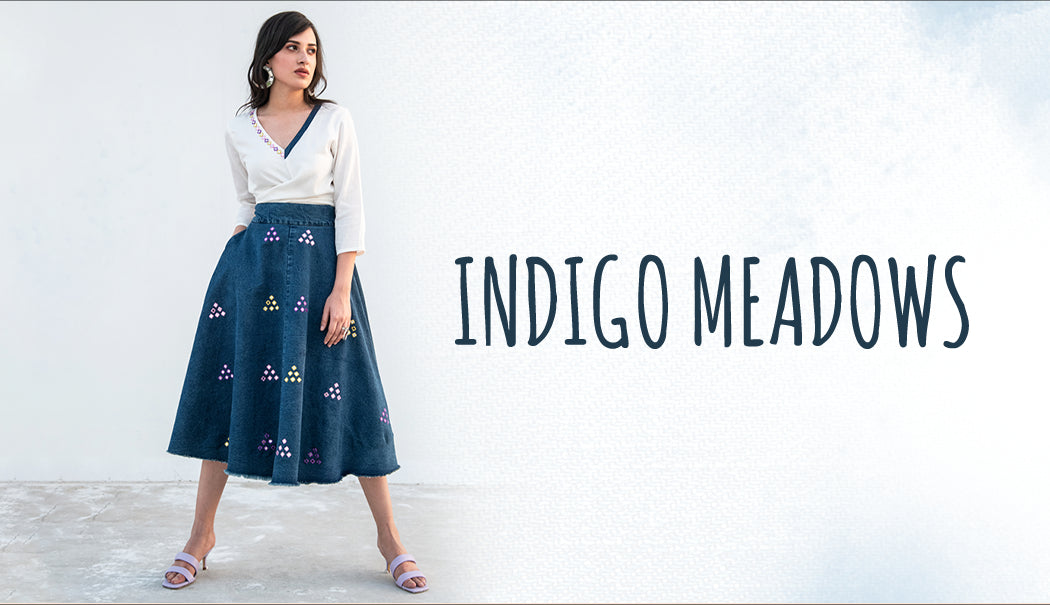 Team Gulaal pours love and skill in every collection it creates. When days of brainstorming and conceptualizing culminate into a successful response from you all, we rejoice.
One such collection which has been praised tremendously is named 'Indigo Meadows'. It features denim dresses, jackets and tops.
But, what makes it so special and bestselling? We elaborate below.
1. The time-intensive process
We'll be honest. It takes us somewhere from eight to ten days to craft a piece from this collection.
First, we stitch it raw and then send it for a wash so that it gets those classic denim crease lines. After this, we open it up and stitch it back again.
Our end goal is to always do justice to every outfit before dispatching it.
2. The versatility
Every piece from the 'Indigo Meadows' collection is a functional creation. Meaning: you can wear every outfit in several different ways. We fondly call this the 'Gulaal Twist'. And, we're not just saying that. It has been proven by many members of the Gulaal Tribe.
Their creativity while styling the 'Paloma Denim Long Jacket' is simply admirable.
So, whether the jacket is worn over a white dress for a lazy brunch date or with a pair of denim jeans for a quick trip to the grocery store, our customers have proved that it is indeed, eligible for styling diversely.
3. The name
Thank God when we decided that one of you would come up with the name of this collection!
We remember receiving multiple entries on Instagram. However, the name 'Indigo Meadows' stood out for being subtle yet descriptive.
4. Denim care
Shopping is a feel-good activity. But we believe that it is more agreeable when you respect your purchase by taking care of it properly.
We were keen on writing a thorough fabric care guide for denim right after launching this collection.
And so we did! You can read it here.
If you know how denim is washed, dried, etc., you are more likely to preserve its life and look for longer.
5. The sense of sustainability
When you don't wash your denim every time you wear it, you're doing the environment a huge favour.
It's perfectly alright to wash it after 3-4 years. Doing so reduces water wastage and maintains the quality of your denim.
It is how we wanted it to be; a clothing collection that is versatile enough to be sustainable.
TAKE A LOOK AT THE COLLECTION HERE.