5 Times Influencers Slayed in Gulaal Outfits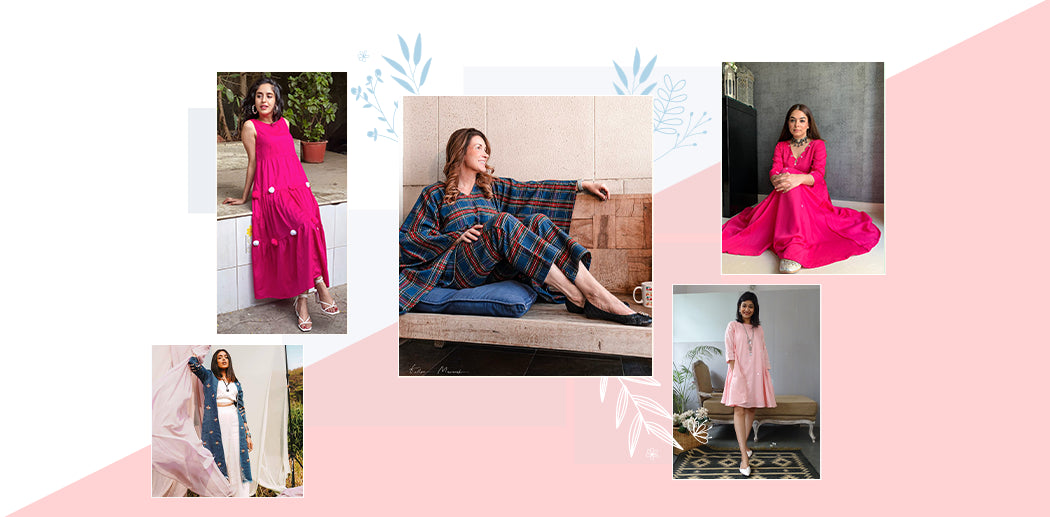 It's one thing to showcase Gulaal outfits on professional models but when our outfits are worn by famous Influencers who are constantly admired and double-tapped by the Gulaal Tribe, matters become more appealing!
So, let's recount 5 instances in which Influencers did full justice to our outfits!
1. When we launched...
..our 'Valentino' collection and were in search of an Instagram influencer who could spruce up our simple date-night outfits and style them in an impressive and versatile manner.
Aarti (@stateoftheaart) Not only did her signature curly hair win our heart but how she wore our 'Freya Tier' dress with a layered neckpiece and a belt cinched at the waist also proved her flair for fashion.
2. When we collaborated...
With someone, we thought we never would. But one look at @jaipurbymarcela's Instagram Bio and we were intrigued.
She's the kind of informed influencer who enters into collaborations only if she believes in a brand's products or the brand itself.
Also, the fact that she looks at life in Pink City from a Brazilian perspective but is also willing to adopt new elements of Indian culture motivated us to join hands with her.
Final result? Rows of gorgeous pictures of her in two of our collections, namely 'Bandhej' and 'Checkmate: Winter Edition'.
3. When we initiated...
Collaborations with Gurleen and Sukhmani from @gumanistylists after they had just stepped into the Instagram Influencer world.
Gulaal and this Sibling Duo have been an unstoppable force ever since.
So, whether it's our 'Aarsi' collection or 'Gulabo' collection, they've distinguished themselves in terms of capturing the graceful and colourful essence of all our outfits.
We will always be thankful for their presence and support.
4. When we shot...
For our 'Urvashi' collection and collaborated with Mom Blogger Anandita Agarwal (@crazylilmum) to wear our now-bestseller 'Umlocha Swing Dress'.
We fondly remember the BTS and the energetic vibe that Anandita brought with her on set.
Not only did the Collab picture turn out perfect, but we were also extremely pleased to know that she would adore our comfort-fit and pregnancy-friendly Kaftaans while expecting her second miracle!
5. When we extended...
A collaboration request to Greeshma Shetty (miss.greeshma).
Eccentric, electrifying and elegant-3 words that we would use to describe her style and 3 reasons why we wanted to share our outfits with her.
So, whether it's a Pinterest-inspired Photoshoot done in our funky and playful outfits or a more ethnically-inclined photo session in our Kurta Pant set, she has done wonders!
That's it, for now. We will surely return with another blog in which we bestow more compliments and express our gratitude for all the influencers who have worn, flaunted and loved our handcrafted creations.