Gulaal, Holi, Jaipur – How Are The 3 Connected?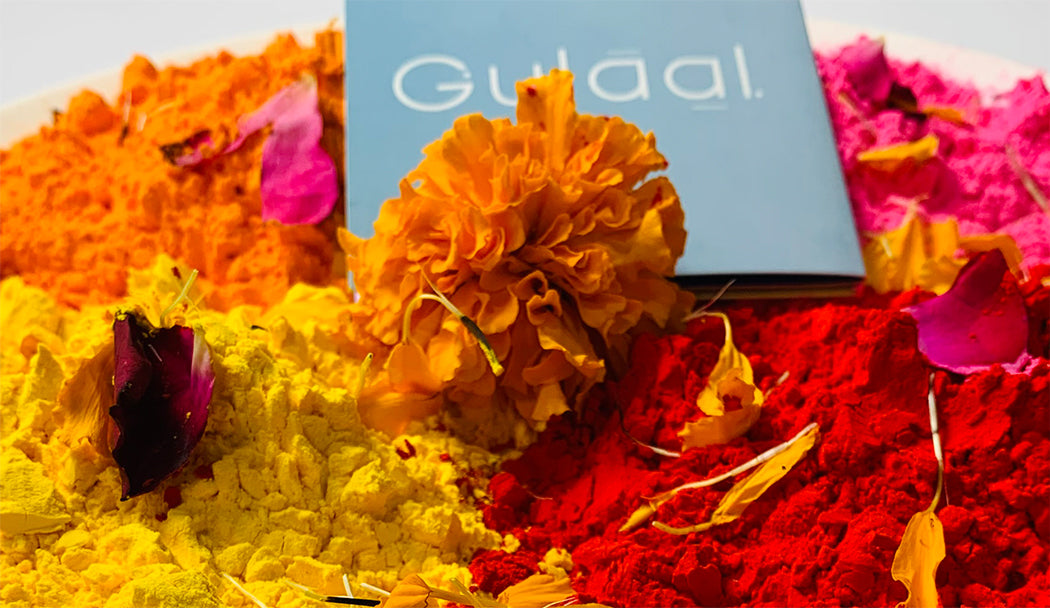 Our brand name 'Gulaal' can sound fascinating to many people. Why name it after the Holi, festival after all?
Well, Gulaal is an online universe of colours, celebrating slow and stunning fashion. It's a brand that is constantly evolving its colour palette so that when you wake up in the morning and march to your closet to dress for the day, a diverse splash of colour greets you.
And, as the Gulaal colour is used to make things more fun on Holi, we vow to do the same for your wardrobe.
Team Gulaal is currently prepping to celebrate a socially-distanced Holi, with masks on, thanks but NO THANKS, COVID-19!
Some more background: our brand was born and brought up in Pink City. We love all the textile techniques practised and celebrated here and so, all our clothing is a reflection of our cultural roots.
Whether it's hand block printing or dip-dye, Jaipur and its horde of masterful artisans are known for drastically enhancing the appearance of any clothing. And that's why we're gladly taking forward the legacy of in-city textile talent.
Get To Know Holi In Jaipur; Gulaal Style 'cos here are some events we think are WORTH EXPLORING:
When all the markets in Jaipur swarm with something called 'Gulaal Gotas' or 'Water Canon Bowls'. These are safe and eco-friendly melted lacquer meant for playing Holi in a more sophisticated manner. Gulaal Gotas are prepared by the same artisans who make Lac bangles!
A quick walk through the Pink City will also reveal that we're more into flowerful Holi now! No more water wastage or bad Chinese colours. And, shout out to brands like Phool (@phool.co) who are urging everyone to celebrate a Green Holi using organic Gulaal!
Everywhere you go, you will find a bit of Jaipur wrapped in the Holi celebrations. Think: soulful folk music and finger-licking Rajasthani cuisine. And of course, we cannot forget the Thandai which is an almond milk-based drink consumed especially on Holi as well as Shivratri.
Speaking of yummy beverages, treat yourself to Gunjjias (dim sum-like sweets made from Desi Ghee & Mawa). These can be purchased from legendary Mithai shops like Laxmi Mishthan Bhandar!
if you're looking for A-Class food AND beverages, then, we suggest hitting some Bollywood-style parties held at Jaipur's most famous resorts and hotels. There, you can enjoy buffets, rain dances or the bustle of Live Dhols at reasonable prices.
The grandeur of the City Palace and the always-felt presence of the Jaipur royal family. Holika Dahan is also observed at the royal residence and one can also visit the palace on ordinary days since a vast part of it is open to visitors.
Even the temples see their fair share of vividness during Holi. One of the oldest and most frequently-visited temples-Govind Dev Ji Temple is exquisitely decorated during this time of the year and starts its Holi celebrations a week before the festival.

 

This temple also hosts the Phaag Utsav. This celebration is named after a month (Phalgun) as per the Hindu calendar.

 

Singing and dancing on devotional songs about Lord Krishna and Goddess Radha is a major aspect of this event.
Now You Know...
..why we decided to name our brand 'Gulaal'. It's because we love the significance of its name as well as its potential to fill Gulaal Tribe's lives with colour and handmade fashion.
Here's early-wishing you a very Happy and safe Holi!