4 Must-know facts about our newest collection!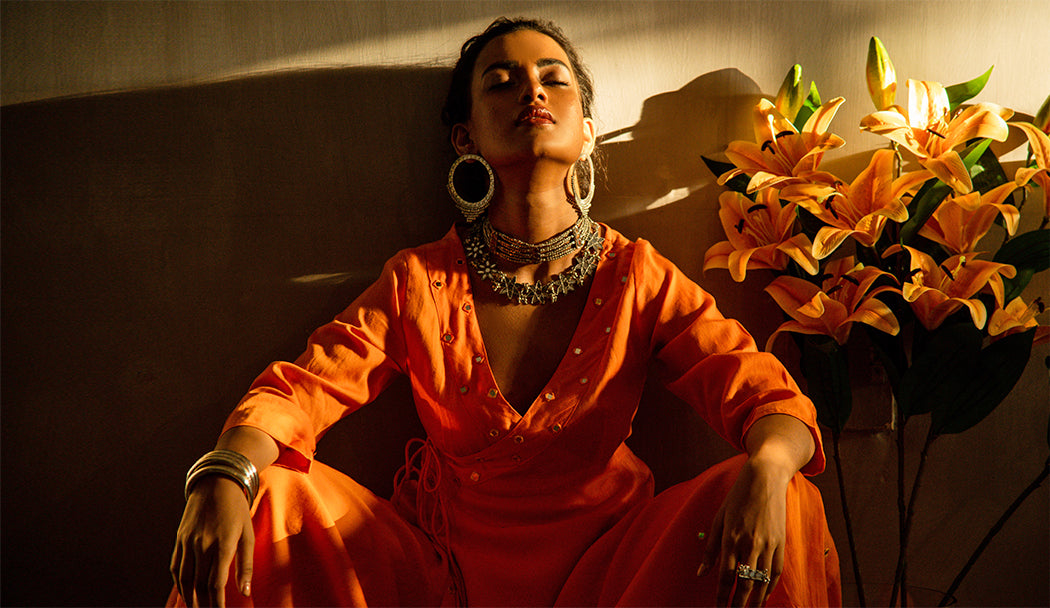 As you know, we introduce a new collection every two weeks and so, it's finally time to uncover another one. Read further to learn some unique facts about our newest pieces dropping super soon.
1. Why the name 'SURAAZ'?
First and foremost, the inspiration brewed from the word 'Suraj' which translates to 'sun' in English. We also thought of orange hues that cover the evening skies during sunsets while naming this collection.

Another reason for calling it 'Suraaz' is that its proper meaning in Hindi is 'good kingdom'. Hence, we put two and two together, envisioning this collection to look like a bright and lively addition to the ever-changing fashion kingdom.
2. How is this collection SO versatile?
Whether you choose to wear something from this collection on festivals like Basant Panchami or at a close friend's wedding, each outfit will effectively put you under the spotlight.

To top that off, you can also make it your Haldi ceremony outfit! Since orange matches the diverse shades of turmeric, you can colour-coordinate with your Bridesmaid Gang and get unforgettable pictures clicked for your 'gram!

The best part is that we can even CUSTOMIZE outfits for the bridesmaid squad or the bride herself can order the entire collection for her gal pals! This can be a sight to behold as our collection is full of diverse styles which will have everyone looking the same yet different.
3. How is this collection DIFFERENT?
A quick Google search on 'Haldi ceremony outfits' will give you aesthetically amazing and satisfying results.

But the pieces featured in this collection, however, stand out.

As your search will instantly reveal, the most common Haldi function outfits include Lehengas, Sarees and yellow skirts with crop tops.

But while designing 'Suraaz', we went out of our way to feature fit & flare dresses as well as co-ord sets, best suited to enjoy celebratory occasions without feeling restricted in any way.

We incorporated comfort-fit and mirror work embroidery in the outfits to enhance their comfy feel and happy vibe.

When accessorized abundantly, these wedding outfits will make you feel confident and charming.
4. But why ORANGE, though?
To that, we say "why not?".

Whether it's sorbet orange or neon, this vivid colour has been dominating runways since 2018.

Plus, why the colour bias? Bright outfits will always be an escape from the dull and boring ethnic wear that you've become so accustomed to seeing nowadays.

And, all apparel presented in the 'Suraaz' collection comes in bold and beautiful orange tones.
Also, guess what?
The collection is ALMOST here!
We're not kidding! You don't have to wait for too long to start shopping 'SURAAZ'.
Only some hours left and then you can stock up on both your wedding and festive wardrobes.
Once live, this collection may even remind you of our 'Aarsi' collection and 'Gulabo' collection. Shop all of these eye-catchy clothes to never feel underdressed in major events.