How to look after your denim clothes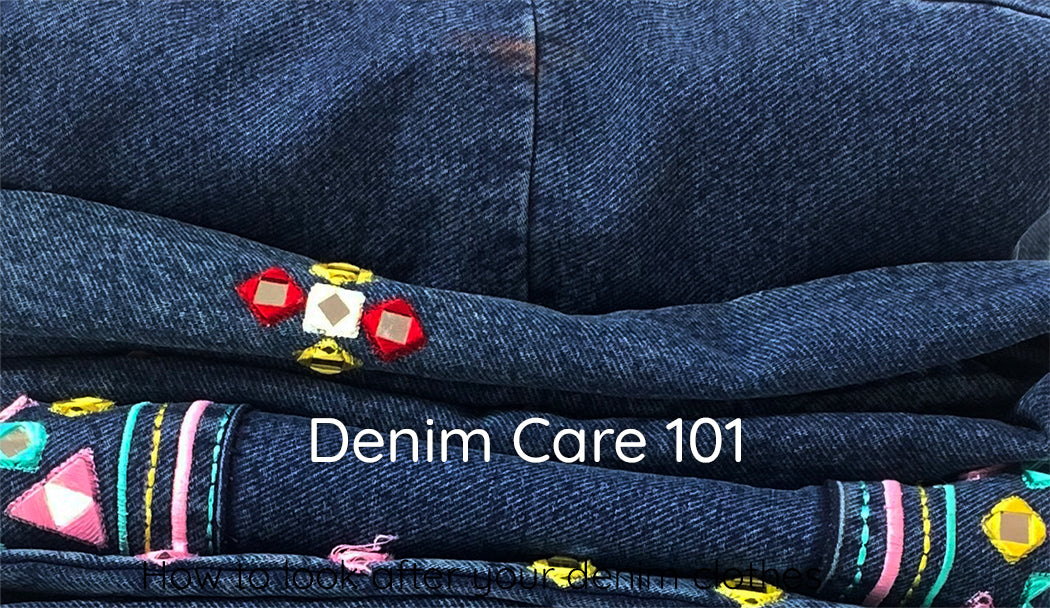 Self-Care Saturday. Garment Care-Denim Fabric
The denim fabric has been around for as long as we can remember. Its timelessness draws us in and its versatility makes us its #1 fan.
We understand that your denim clothes are incredibly precious to you. But what exactly do you have to do to keep them looking as good as new?
Learn how to care for denim in this blog.
WASHING
Put it in the washing machine or hand-wash it. Either way, your denim fabric was made to withstand both processes.

Before starting the washing, make sure that there is nothing foreign (tissue or loose change) lingering in your denim clothes.

Turn the denim garment inside out so that only the wrong side of the fabric endures the harshness of the liquid detergent.

We highly recommend washing your denim in cool or cold water.
DRYING
After your denim fabric has gotten wet (literally) and wild, it's time to dry it properly.

Remove the excess water but refrain from wringing the fabric.

Why? Because that will inevitably twist and break the fibres of your denim clothes.

Simply flatten the creases formed and lay it to dry in the shade.

CAUTION: Drying denim in the Sun will distort its colour.

The natural drying method may make your denim fabric a bit stiff at first. But a ticking clock and some patience later, your denim will be back to its usual soft texture.
IRONING
Heat can cause your denim to shrink. So, stick to uncomplicated methods such as steaming your denim outfit post-shower or dampening the fabric and removing the wrinkles using a hand dryer.

Or, if you are keen on using an iron, use the 'steam' setting on it and iron at the highest setting.
STORING DENIM CLOTHES
Wrinkle-free denim can only be attained if you hang it after it has thoroughly dried.

So, stop yourself from unceremoniously throwing your denim clothes in a growing pile of clothes. And, NEVER fold them over the midsection of a hanger.

If laziness still catches up to you, fold and stack them neatly in your closet.
STAIN REMOVAL
Spot-clean your denim without fretting too much! The stains will go away without a fuss and your denim will also be spared an unnecessary trip down the washing machine, thus reducing your carbon footprint in the process.

Use lukewarm water and the mildest detergent you own to dab away at the offending spots!

If time allows, soak your beloved denim in detergent for about 15-20 minutes to remove the stains.
We are self-proclaimed Denim Darlings; always loving and caring for the fabric.
Have you had the chance to see our newest, all-denim collection named 'Indigo Meadows'?
Explore it this very moment.