How to Decorate your Space Using 'Gulaal Home'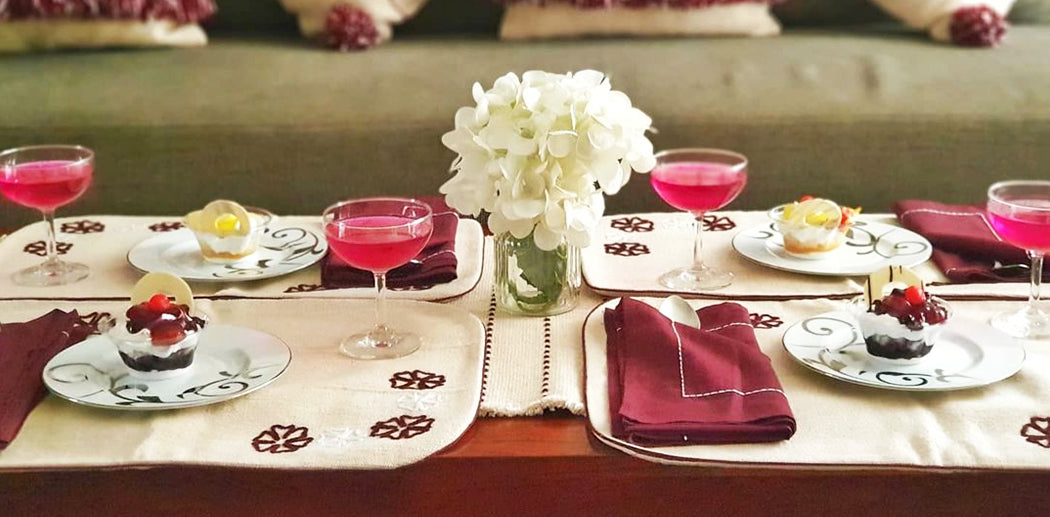 Home is where the heart is. It is not merely an address where our happiness resides, but a soft spot to land in after a hard day.
Whether small or big, spacious or cramped, old or newly-made, it always exudes a life-giving feeling.
Brightening up the appearance of your interiors is an art, very few could master. However, we at Gulaal are here to help you create a space that inspires and speaks to you in its own unique style. Changing a few accessories would not cost you a fortune, but would switch the whole feeling of the rooms in your house.
We bring for you an array of curtain sets, cushion covers, table runners, rugs, placemats, coasters, napkins and throws to adorn the decor of your humble abode.
Our home-decor collection adds a ripple of colour to the plain textures. What makes it more tempting is that our products are delightfully affordable. Gear up to revamp your house with us.
1. Add a pinch of calm to your lobby with the Dove White curtain Set
Fabricated in cotton mulmul, the serene curtain set justifies the name coined for it. There is a sprinkling of royal blue colour in the pure white texture in the form of intricate embroidery. The exterior of this wall decor is soothing. The sunlight entering the room feels more pleasant as the rays sieve through its soft pores.
2. A special blue to make the Monday blues evaporate in the Indigo Table Runner
When you grace the Indigo Table Runner with a glance, it undoubtedly adds an artistic dimension to your surroundings. Fabricated in pure cotton, the rich colour of Indigo is mellowed down by the hand-dyed shades of white. The embroidery detailing adds to its subtlety and the handmade tassels at both sides lends the borders a bold look.
3. A touch of moodiness in the seemingly permanent backdrop with the Indigo Placemat
The Indigo Placemat is a fine choice for your dining table. Be it a modern glass or a classic wooden table, the blue and white hues render a moody touch to a backdrop that has lasted for years. Tailored in cotton fabric, this practical culinary accessory has a clear distinction of blue and white colours and some sophisticated embroidery.
4. Stay loyal to the blue pottery colour with the Indigo Bandhani Throw
The Indigo Bandhani Throw is a perfect pick to complement your white bed coverlet even if you are inclined towards light shades for your bedroom. The throw is cotton woven, a blend of strong and light hues and has hand made tassels at both sides which make it truly trendy. Place a blue pottery flower vase on the side of your bed to enhance the look of your bedroom.
5. Broaden the horizon of your living room with Indigo Fringes Cushion Cover
The Indigo Fringes Cushion Cover is cotton woven and swells with pride in its robust colour. The hand embroidery and fringes detailing make it more graceful. It features a back opening with CFC Zipper and promises a long life. The pure white hand-made tassels at the corners add to the overall charm of this hand-dyed piece.
It needs a lot of online window shopping to discover such gems. Finally, you are here, now the rest is smooth sailing. These would surely upgrade your home style statement one-notch higher.
We would like to thank three people from the bottom of our hearts, who have transformed their home spaces with our exquisite pieces and promoted us on Instagram. So, we are grateful to @girl_withbindiya for styling her space with our Pearl White Pom-Pom Curtains Set, Maia Embroidered Cushion Cover, Niamh Embroidered Cushion Cover, Flora Round Cushion Cover and the Pansy Embroidered Rectangular Rug.
Moreover, we are truly delighted to see @kitchenandhomestories and @cozyyylilcorner utilizing our Dove White Curtain Set, Faye Tassels Cushion Cover, Noaa Pom Pom Cushion Cover, Bruna Embroidered Table Runner, Arwen Embroidered Placemats, Mocha Embroidered Napkins and Umber Embroidered Coasters in their table setting.
Our products prove the fact that practical home accessories can be aesthetic and tasteful as well. Your home decor hunt is over and you've arrived at the most reasonable yet fashionable juncture. Allow your house interiors to reach one more milestone of beauty with Gulaal. Merry Shopping, fam!