A Closer Look Inside The Gulaal Studio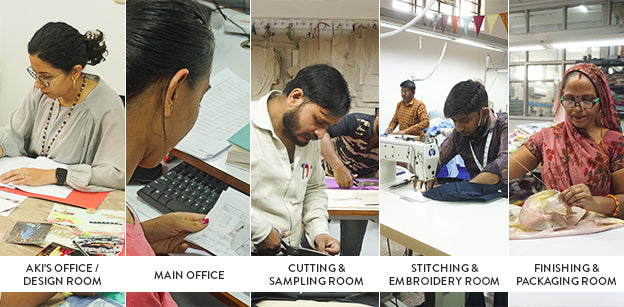 Consider this week's blog a journey. A journey that will transport you right into our Studio through words and pictures.
Full disclosure: when we sat down to write this blog, we made a mental checklist in our heads about which elements of Gulaal we have already introduced you to – we always tell you interesting tit-bits about our products, we talk about Team Gulaal on our social media but we have never elaborated on HOW our Studio looks from the inside and what exactly happens in it.
Until now.
Read this blog and find out what really goes on in each room of the Gulaal studio.
1. Aki's office / Design Room
Of course, this is the room from which our Lady Boss works but we also refer to it as the "Think Room" because this is where we sit, contemplate, discuss upcoming travel and bounce ideas off of each other.
There's also a common Design Board that our designer and Aki use to communicate through visuals.
So if you ever wonder WHERE the concepts of any of our upcoming collections are born, you can think of this room.
2. Main office
This is where our Production Manager Meeti receives the orders. Then, job cards (pieces of paper on which all the information about every order is mentioned) are made and the ball starts rolling from thereon.
3. Cutting & Sampling Room
The job card ends up here and the real fun begins! Each fabric piece is cut individually by Deepu and Hansraj Ji.
This is also the room in which we make the samples. If they don't live up to our expectations, we usually share them with our employees…because why waste anything?
INVENTORY UPDATE: we have more than 500 designs on our roster currently and the Sample Room is practically overflowing with our ideas!
4. Stitching & Embroidery Room
The job card and the cut fabric land here next.
Our master tailors stitch the pieces here. If the piece needs embroidery, then our Embroidery Man takes over.
All of the real mirrors are also added in this room.
5. Finishing & Packaging Room
The next destination for the job card and the stitched outfit is the Finishing & Packaging Room.
Here, finishing touches like buttons, tassels or other embellishments are added to the outfit.
After this stage, the outfit is sent for a thorough Quality Check regarding measurements and defects.
If all goes well, the outfit is packed with love and care.
After the order is dispatched, you can guess whose room the finished outfit lands in, right Gulaal Tribe? 😉